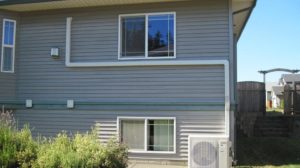 Finding the right maintenance professional for home air conditioning can be stressful.  When it comes to air conditioning, Bucks County PA relies on Solution Based Plumbing, Heating, and A/C for their repair and maintenance needs. SBPHA/C's expert plumbing, heating, and air conditioning technicians provide fast emergency response, competitive pricing, and guaranteed top quality workmanship.
A/C systems need regular maintenance to keep up with the heat all summer long. If your A/C breaks down, our specialists can get your system back up and running in no time. In the meantime, here are some tips to prevent your A/C from failing.
Change Air Filters Regularly
Changing the air filters in your air conditioning system is important to keep it running smoothly. Think of the air filter in your car – as it gets clogged with dirt, dust, and dander, it takes extra effort to get cleaner air into the cabin. The same goes for your home. With allergens stuck in your air filter, forcing cool, clean air into your home can become less efficient and more expensive over time.
How frequently you should change your air filters can depend on factors like these:
How many people occupy your home
How many pets your family has
Which type of air filter you're using
How often you run your A/C unit
Our technicians can help you figure out when and how often to change your air filters.
Keep Bushes, Branches, and Gardens Away
If you're doing some gardening in the backyard this summer, be sure to check on branches or shrubs that may be creeping too close to your compressor. Just like dirt and debris on the air filter can make it harder for air to get through the system, branches and bushes can make it harder for outside air to enter the system.
When it comes to plumbing, heating, and air conditioning, Bucks County PA looks to SBPHA/C. We combine quality craftsmanship with reliability and we look forward to helping you cool down your home this summer. Contact us to learn more about how we can help with your plumbing, heating, and air conditioning needs!