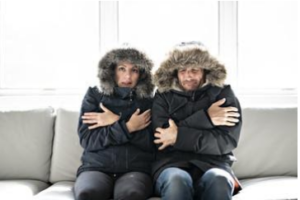 One of the most common calls we get during the wintertime is from homeowners in our area who have their heat turned on, but it isn't working. Is your heater blowing cold air in house? You'll want to do a little investigating to find out what the problem is. Below are three of the most common reasons for a broken furnace.
Ready to skip the troubleshooting and get help from a professional? The pros at Solution-Based Plumbing Heating and Air Conditioning serve Bucks, Montgomery, Philadelphia, Delaware and Chester Counties. Give us a call at 215-584-2098—we're available for help with plumbing issues, heating repair, installation and replacement, air conditioning repair installation and replacement and 24/7 emergency service. We pride ourselves on customer service.
3 Reasons For Heater Blowing Cold Air In House
The thermostat's fan is set to ON. Check the fan setting on your thermostat, and if it's set to ON, switch to AUTO. That way, your blower won't run 24/7 and thus send cold air through the vents if the room reaches the desired temp.
The furnace air filter is dirty. Dirty filters can clog the airflow inside the furnace and trigger a safety feature called the high limit switch. The burners will shut off if this happens, and it's possible cold air could start to come through your vents. If it's been a while since you've had your filters replaced, this is a good place to start troubleshooting.
The furnace's pilot light is off. Older furnace's often have what's called a standing pilot light.This is what lights the burners that heat the air flowing through your vents. If the pilot is off, the burners won't be lit, so any air flowing through your house will not be heated. Relighting the pilot is not difficult, but varies from furnace to furnace. It's also worth investigating why the pilot went out–as this could be a sign of a larger problem.
Calling the Pros For Furnace Help
Troubleshooting can only get you so far when it comes to a broken furnace. When the temps start dropping and your heater stops working, it's better to get the professionals involved before it gets too cold! If you're in our service area, contact us right away to get a solution-based response to your problem.