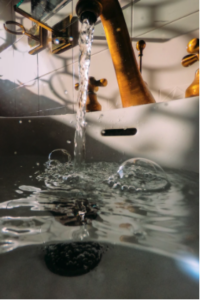 Much like the mail, the dishes don't stop coming. A clogged kitchen sink can turn a clean, serene kitchen into a chaotic landscape in no time at all. If your kitchen sink keeps backing up, read on to learn what you can do and when it's time to call a professional plumber.
Kitchen Sink Keeps Backing Up: Common Causes
Our kitchen sinks are subject to daily use, which means the occasional clog is inevitable. There are a few things, however, that should never make their way into the kitchen sink drain. Even if you have a garbage disposal unit installed, avoid adding the following food items:
Egg shells
Pasta
Beans
Fibrous fruits and vegetables
Excessive amounts of oil
Coffee Grounds
Foods that expand, like rice, oats and quinoa
This is by no means an exhaustive list, but these items often cause major kitchen sink clogs as homeowners don't realize they are harmful for kitchen plumbing.
How to Unclog a Kitchen Sink Drain
At this point, we'd like to stress that homeowners should avoid pouring commercially available chemical solutions down the kitchen drain. Even if these products are marketed as being safe for your sink and drain, they can damage and erode plumbing further down the line—and they aren't environmentally friendly. Instead, try the following:
Check the Garbage Disposal
Sometimes the problem lies in the garbage disposal unit. Try turning the unit on and seeing if this solves the issue. If you need to investigate further, ALWAYS disconnect a garbage disposal before attempting to remove blockages or check the blades. If the unit doesn't seem to run or work properly, or you are unable to clear a blockage, give us a call.
Plunge the Sink
For minor clogs, a good old plunger just might do the trick. Add enough hot water to the sink until it creates a seal around the drain. Place your plunger directly over the drain hole and pump directly up and down several times. Remove the plunger to see if the water drains, repeating the process if necessary. If you still don't have any luck after multiple attempts, try out the next method.
Dissolve the Clog with Baking Soda and Vinegar
A natural solution can be made from common household items you may already have on hand. Try the following:
Remove as much water from the sink as possible
Pour one cup of baking soda down the drain
Follow up with one cup of white vinegar
Place the stopper over the drain hole to seal it
Allow the mixture to work for about 15 minutes
Remove the stopper and run hot water
If water doesn't drain, try plunging the clog again
Snake the Drain
If you are able to obtain a drain snake from a local home improvement store, you can try snaking the drain to break up the clog or to pull it out. If the clog appears to be further down the pipes than you can reach, a professional plumber will have the right equipment.
When to Call a Professional Plumber
If you are still unable to clear the clog—or frequently experience clogs and slow-moving drains—it's time to call a professional plumber.
Solution Based Plumbing, Heating and A/C proudly serves Montgomery, Bucks, Philadelphia, Delaware and Chester County. Call (215) 584-2098 or contact us online for all your plumbing, heating and air conditioning needs.