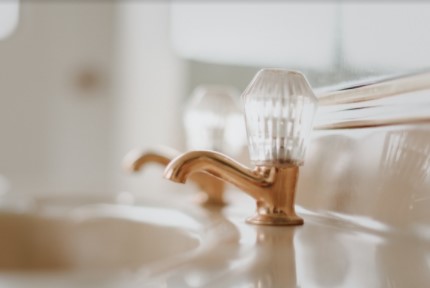 A clogged bathroom sink, or even a slow draining one, can create major inconveniences when it comes to your daily routine. Luckily, there are several steps you can take at home to tackle the problem. In this post, we'll discuss how to fix a bathroom sink completely clogged with hair, soap scum and other debris.
What Causes Clogs?
Bathroom sinks often take in surprising amounts of hair, soap scum, toothpaste and personal care products. These contaminants can build up over time, creating a slow running drain and potentially a full clog. 
Slow Draining to No Draining
If you notice your sink drains slowly, run very hot water for a minute or so, repeating this process as the water drains. Sometimes a thorough "flushing" like this can break down existing build-up. If this doesn't solve the issue, or the water doesn't drain at all, it's time to step it up.
Household Solutions
Allow your sink to drain completely (or remove as much water as possible) before starting. Next, pour ¼ cup of baking soda into your drain, then 1 ¼ cups of white vinegar. Plug the sink drain with a stopper or towel and allow the solution to sit for roughly 20 minutes, then run hot water, or pour boiling water into the drain. Repeat the process if necessary.
Commercial Products
There are plenty of clog-busting products on the market, but it's always important to check manufacturer instructions and ensure a product is safe for your plumbing, your family and the environment. We recommend consulting a plumber on whether a product is truly safe before potentially causing damage to your pipes.
Plungers & Drain Snakes
Severe clogs typically warrant the use of a plunger or a drain snake. To plunge a sink drain, remove the stopper, add a small amount of water to the sink (just enough to cover the drain by roughly an inch) and center the plunger over the drain. Create a seal by applying force to the plunger, then pump it up and down for 10-20 seconds. Test your drain and repeat as needed. 
Investing in a proper drain snake can also help unclog a stubborn drain. Be sure to follow manufacturers directions. This method may require more tools on hand than those previously discussed. 
Bathroom Sink Completely Clogged? Skip the Troubleshooting
If you continue to experience a bathroom sink completely clogged with debris, or you're ready to skip the troubleshooting, let us know! SBPHA/C proudly serves Montgomery, Bucks, Philadelphia, Delaware and Chester County. Contact us or call 215-584-2098 today for all your plumbing, heating and air conditioning needs!