We believe nobody should be without reliable heat in the winter, fall or early spring. You deserve a home that's comfortable and safe, without worrying whether your heating system is going to make it through the cold months. Still, if there is a problem and your heating system breaks, you should have a trusted company nearby that you can rely on to make repairs with the utmost care for your home.
That's where Solution-Based Plumbing, Heating and Air Conditioning comes in. Since 2013, our expert technicians have been supplying affordable heating repair Philadelphia-area residents have come to rely on. Our emergency service line is always open, and we pride ourselves on getting repairs done quickly and safely.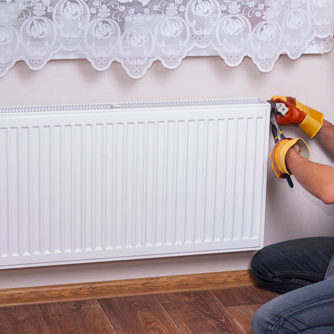 What it Means to Be "Solution-Based"
Being 'solution-based' is what makes us different from other heating repair companies in the Philadelphia area. Our staff is not just knowledgeable, we're experts, which means we can get to the root of your heating problems, instead of just treating the symptoms. You'll never find us taking shortcuts or offering "quick fixes" that will cost you money down the road. We'd like to help you avoid situations where you're shelling out money each year to fix something that could have been repaired correctly the first time.
When to Call Us for Heating Repair
Heating systems can be a mystery to those without proper training, that's why it's safest to have your system inspected once a year to ensure it's in working condition. But even with regular inspections, things still go wrong.
Call us right away if you notice any of the following:
Short Cycling (Turning On and Off Quickly)

Thermostat Issues

Whistling, Rumbling, Banging Noises

Any Change in Typical Operating Noise

Cold Air Only (When Heat Is On)

Strong "Whooshing" Sound During Startup
Unfamiliar noises can be a sign something is not quite right with your system, and it's better to be safe than sorry and have it looked at by professionals. Furthermore, if the heating system is simply not doing it's job and not keeping you warm, it's something we should look at right away.
We are fully licensed and insured in plumbing and HVAC including liability, auto and workers' comp. We take protecting our customers very seriously at SBPHA/C, which is why we carry far above the legal minimum on all our insurances. With us, your number one investment, your home, is completely protected. Contact us for more information about our heating repair services or to set up an appointment.