Sump pumps and ejector pumps are commonly installed in the basement of a home, and each have a separate function.
Sump pumps eliminate ground water that comes into the home.  A drainage system is connected to the sump basin, and the unit will pump out the water when it reaches a certain level.  Water will then typically discharge into the municipal storm sewer or back out to the yard.
Ejector Pumps eliminate grey water (from your laundry and/or floor drains) or waste from a bathroom that is situated below grade in a home.  A vent pipe is needed for pumps processing bathroom waste.  Any materials coming from the pump's discharge pipe will connect to the sanitary sewer line of the home.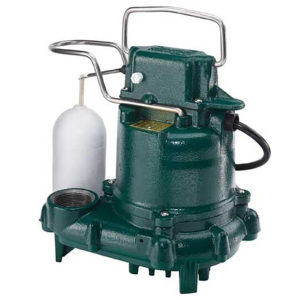 Please contact us about your sump pumps or ejector pumps problems such as:
continual running even when the crock is dry or low
float switch sticking in the on position, or switch failure
not coming on when the crock is high or overtopping
float switch sticking in the off position or float switch failure
noisiness or debris inside the housing or near pump piping
foreign objects inside system
leaking at the check valve
short cycling
fails check valve or poor installation with no check valve
repeated tripping of the breaker
failed cord or bad housing, usually resulting in the need of a new pump