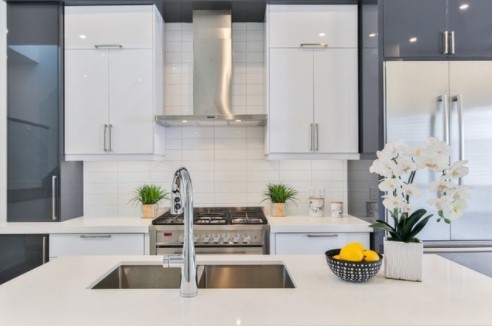 A garbage disposal is a device installed under a sink, typically in the kitchen. It can be turned on to shred food waste into pieces small enough to travel through plumbing without creating a clog. This convenience in the kitchen is just one of the benefits of having a garbage disposal. In this post, we look at the pros and cons of garbage disposals. We also offer a quick guide on what you can put into a garbage disposal, and what to avoid.
Benefits of Having a Garbage Disposal
It saves time when doing dishes.
Less food waste goes into your trash can, which reduces the amount of garbage you have to deal with.
Reduced Odor––since food waste doesn't end up sitting in your trash can, kitchen odors are reduced.
Fewer clogged drains as a result of food being shredded into pieces small enough to pass through plumbing.
Long-term use––although each unit differs, some garbage disposals can last up to twenty years when properly used.
It can benefit the environment, as less waste in landfills means less methane will be produced there.
The Cons of Having a Garbage Disposal
If left unmaintained, a garbage disposal can harbor bad odors.
Not all kinds of food waste can be fed into a garbage disposal. Garbage disposals are only meant to handle very small scraps of certain kinds of food waste, as we explain below!
What You CAN Put into a Garbage Disposal
We'll note here that this is a general guide, and the specifics may vary depending on your unit. The following items tend to be safe to feed into your garbage disposal:
Most types of small vegetable scraps, except for fibrous peels (like large amounts of potato peels).
Small chicken and fish bones.
Small food particles, such as breadcrumbs.
What you CAN'T Put into a Garbage Disposal
Grease is terrible for your pipes, whether or not you have a garbage disposal. It should be left to cool/solidify and then disposed of in the trash.
Rice.
Pasta.
Coffee beans.
Large amounts of coffee grounds.
Large bones.
Large chunks of food.<
Fibrous fruits or vegetables (think artichokes, celery, corn husks, asparagus, etc.) and their skins.
Repairs and Replacement
When a garbage disposal does break down, you can count on Solution Based Plumbing, Heating, and A/C for repairs and replacement. If your unit doesn't turn on (even after resetting), seems to be jammed, clogs up your sink, leaks, makes strange noises or seems to run louder than usual, let us know! It's important to note you should NEVER place your hand into a garbage disposal.
Solution Based PHA/C proudly serves Montgomery, Bucks, Philadelphia, Delaware and Chester County. You can contact us online or call 215-584-2098 for all your plumbing, heating and air conditioning needs!