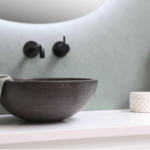 A clogged bathroom sink can quickly turn your morning routine into a frustrating experience. From toothpaste residue to stray hair, various factors contribute to this common issue. But fear not! Solution Based Plumbing and Heating (SBPHA/C) is here with insights into the causes behind a clogged bathroom sink and effective solutions to restore smooth drainage.
Common Causes of a Clogged Bathroom Sink
Before you roll up your sleeves, let's delve into a few culprits behind a clogged bathroom sink:
Hair Buildup: Over time, strands of hair can accumulate in the drain, combining with soap and other debris to create stubborn blockages.
Soap Scum: The soap we use to stay clean can lead to scum buildup in pipes, restricting water flow and causing clogs.
Toothpaste Residue: Toothpaste contains particles that, when mixed with water, can solidify and contribute to blockages.
Foreign Objects: Accidental drops of jewelry, small items, or even a cotton swab can obstruct the drain and trap other debris.
Effective Solutions to Clear a Clogged Sink
Now that we've identified the culprits, let's explore effective solutions to tackle a clogged bathroom sink:
Boiling Water: In many cases, a simple solution can be remarkably effective. Carefully pour boiling water down the drain to melt and dislodge soap scum and minor blockages.
Plunger Power: Use a small plunger designed for sinks to create a vacuum seal over the drain. A few plunges can dislodge debris and clear the clog.
Baking Soda and Vinegar: Create a natural, fizzing solution by pouring half a cup of baking soda followed by half a cup of vinegar down the drain. After about 15 minutes, flush the drain with hot water.
Wire Hanger Trick: Straighten a wire hanger and create a small hook at one end. Insert it into the drain and fish out hair and debris.
Call the Professionals: If these DIY methods don't resolve the issue or if the clog is particularly stubborn, it's time to call in the experts. Solution Based Plumbing and Heating offers professional plumbing services to address even the most challenging clogs.
SBPHA/C: Your Clog-Busting Partner
Dealing with a clogged bathroom sink? Whether it's hair, soap scum, or an unexpected item causing the obstruction, you now have the knowledge to tackle the issue head-on. Remember, if DIY methods fall short, Solution Based Plumbing and Heating is here to help. With our experienced team and advanced tools, we'll have your sink draining freely in no time.
Contact us today to schedule a service. Don't let a clogged sink disrupt your daily routine any longer. Trust SBPHA/C for prompt and reliable solutions, ensuring your plumbing works flawlessly.