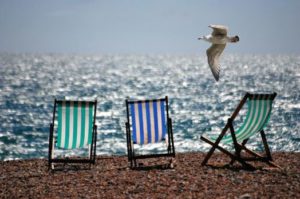 During spring and summer in the northeast, the weather can change from cold to hot in the space of a few hours. It's a good idea to make sure your air conditioning unit is ready to handle the transition. After a long winter without use, you might encounter some common A/C problems that you will want to address before the next big heat wave. Solution Based Plumbing, Heating, and A/C has some expert tips on what you should expect.
Common A/C Problems
When the A/C doesn't seem to be working, we sometimes overlook the simplest fix. Before calling a professional, ask yourself some basic questions. Has someone changed the thermostat temperature? Have you switched from heat to cool? Is the circuit switched on? Has the filter been replaced? The answers to these simple questions are key to solving problems without necessarily having to pay for a service call. However, if these questions don't lead you to a solution, read on to find out about some common A/C problems.
Ready, Set, Go: That first hot and humid day hits, so you flip the A/C to "on" – but nothing happens. It's possible that you've got a blown electrical fuse or a loose connection within your unit. This may require the help of an HVAC professional who can safely diagnose and repair the issue.
Pollen, Debris, and Dirt, Oh My: Even if you covered your A/C unit for the winter, grime can still creep in and coat the compressor, coils, and other components. This causes slower air flow and a unit that has to work harder, which may lead to higher energy bills as well as less a effective unit. An HVAC technician may need to perform a thorough cleaning.
Feeling Hot, Hot, Hot: Feeling hotter than usual even with the A/C on and running? A coolant leak is a possible culprit. Drastic changes from hot to cold (and back to hot again) can cause swelling and shrinking in your system. This often leads to refrigerant leaks that should be addressed by a professional.
Experience + Service: Our Constant Solution
If you've encountered any of these common A/C problems, or if it's been a while since you've had your A/C unit serviced, contact Solution Based Plumbing, Heating, and A/C. We offer tried and true solutions, including: replacement of inefficient equipment, installation of high-quality equipment, and preventative maintenance. Call us at 215-584-2098 for a consultation today!