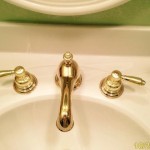 If you want a long-lasting bathroom faucet then consider a brass body, as it's not going to corrode the way a lighter metal would.  This faucet and its parts have been manufactured with durability in mind.  Carefully considering the brand and its reputation, along with speaking with a knowledgeable plumber before your installation, is in order.  In many cases, the faucet price is twice the cost of labor, perhaps even more.  For entry level and mid-ranged budgets, we use Moen as our manufacturer of choice. These faucets are a great deal when purchased at supply house prices (not as much at the large box stores). While there are other good manufacturers in the field, Moen faucets are the one's we trust and have served us well for over 20 years. For those of you looking at the upper end of the spectrum (and budget), we love to install Grohe, Hansgrohe and Kohler bathroom fixtures.
There are faucets made with metal alloys containing zinc plus aluminum, magnesium, and copper but these alloys are not as durable. Faucets that are made of this type of metal are plated in brass (or any other finish for that matter) and that's what will be keeping corrosion at bay.  The internal moving and non-moving parts that come with this faucet are mostly made with an inferior metal alloy also, so you'll need to replace them once they begin to fail.  At around the two to ten year mark is when breakdowns may occur.  Expect to find a decent mid-grade faucet for $150 to $400.
The well-known manufacturers offer some of their products at mass retail stores for a reduced cost.  They profit from their brand name and products being readily available. Many of the faucets available at these stores contain plastic (most actually), and mineral deposits will collect on the plastic and begin to deteriorate it. You may or may not understand the risk that you're taking by installing a cheaper faucet, so please be willing to hire a plumber to fix or replace it if it fails. Prices range from $25 to $300 at mass retail stores.
If you are reading this now, we know you care about what faucet fits for you. Please don't hesitate to call us at 215.584.2098 for guidance!