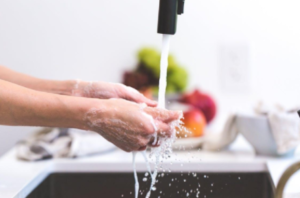 If you're hosting parties and get-togethers this summer, you may be relying on your handy garbage disposal to get rid of the extra food waste. What happens if it clogs or breaks? This frustrating problem might call for a professional plumber. Montgomery County PA relies on Solution Based Plumbing, Heating, and A/C for tough plumbing jobs, but you can also follow these easy tips for keeping your garbage disposal running smoothly in the long run.
Which Garbage Disposal is Right for You?
Proper garbage disposal use can begin when you are choosing which unit to install. A higher horsepower means a more powerful motor, which means a longer life. In our opinion, you don't want to get anything smaller than a 1/2 HP motor, which is good for a 1- or 2-person residence (with an occasional guest or two).
Most residences are better off with a 3/4 or 1 HP unit. This is good for families and more frequent entertainment with a handful of guests.
What NOT to Put into a Garbage Disposal
Don't be tempted to throw whatever you can down the garbage disposal! This convenient appliance can quickly become broken or clogged from improper use. Always use the trash can for:
Celery and other fibrous plants, potato skins, fruit rinds, and other vegetable peels
Eggshells, bones, and coffee grounds
Pasta and rice (they expand)
Any and all grease
Non-biodegradable items
Using a Garbage Disposal
In addition to not grinding up certain items, follow these steps when using your garbage disposal.
Run cold water into the garbage disposal
With the water running, turn the unit on
Place a small batch of food waste inside
After the disposal stops grinding, let the water run for a little longer to make sure everything has been rinsed out
Repeat
Don't put in too much waste at a time, and run plenty of cold water to prevent clogging the line and overheating the motor. Hot water can damage the seals if used too often.
Cleaning a Garbage Disposal
For best performance, clean your garbage disposal at least once a week. You can use a product made for cleaning disposals, but items like vinegar, lemon wedges, rock salt, and baking soda are also effective for regular cleaning.
If your unit has blades, you can maintain them by dropping in a few ice cubes. Shredding the ice will sharpen the blades. Our InSinkerator models employ a grinding device instead of a blade, so ice cubes are not needed.
Choose Us for your Plumbing, Heating, and A/C Needs
Hopefully, your garbage disposal will run smoothly for years to come. If you do need a plumber, Montgomery County PA residents know that the experienced technicians at SBPHA/C are ready to help. Contact us to make an appointment or learn more about our services, which include plumbing and heating repair, AC repair and installation, and bathroom and kitchen upgrades and renovations.