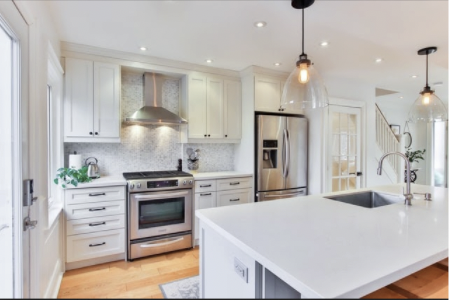 Kitchen sink clogs are one of the most common plumbing problems homeowners come up against. Even with diligent care and maintenance, the kitchen sink is one of the most high-traffic fixtures in the home, and clogs are inevitable. If you're dealing with a kitchen sink clogged past p trap situation, you may need to employ additional steps to get to that elusive clog. Read on to learn how to unclog a kitchen sink in 4 easy steps. 
Unclog Your Kitchen Sink in 4 Steps 
A clogged drain can set your entire household back. Let's look at 4 easy steps to unclog a kitchen sink drain.
Step 1: Baking Soda and White Vinegar
These common pantry items double as superstars of the DIY world. To break down or dissolve a stubborn clog, use a funnel and slowly pour up to one cup baking soda and one cup vinegar down the offending drain. It's wise to alternate between the two, as your drain can become clogged with too much baking soda. Let the solution sit for about 30 minutes.
Step 2: Follow Up with Hot Water
Next, run hot (not boiling) water and see if you've conquered that clog. Sometimes, this all-natural DIY solution is all it takes to break down a pesky build-up. If the sink still backs up, it's time to break out the plunger.
Step 3: Plunge the Sink
Fill the sink with several inches of water, then secure a plunger over the drain to create an air-tight seal. If your sink has an overflow drain hole, be sure to plug it with a rag. If you have a double-sink set up, you'll want to plug up that second drain before you start plunging. Next, plunge vigorously for 10 to 20 seconds and check to see if the clog moved along, allowing water to drain. You may need to repeat steps 1–3 several times to fully dissolve the problematic build-up. If your plunging endeavor fails, move on to step 4.
Step 4: Unscrew and Clean the Sink's P-Trap
If the issue lies within your sink's P-trap or beyond it, you may need to approach the clog from below the sink. Place a bucket underneath the pipework and use a pipe wrench to unscrew the P-trap section of your sink's plumbing. Check to see if the P-trap itself is clogged with debris and clean it out if necessary. If the issue is further down the line, you can try using a drain snake, also called an auger, to try and reach the clog from under the sink.
How to Use a Plumbing Snake Around Turns
Whether you opt for snaking the drain from above or decide to remove the P-trap and snake from below, keep the following in mind:
Ensure the drain snake is the right fit for the job. Sink augers are typically longer than toilet augers, for example. A drain snake that's too big for your plumbing may not be able to navigate pipes efficiently.
Work slowly and don't force things, as a drain snake can bend back on itself.
If you hit resistance, it could either be the clog or a turn/corner. Try retracting and pushing back into the resistance as a means of breaking up or snagging the debris. If you've hit a corner, this technique has the added benefit of making the snake's "head" wobble, which can help get it around the bend.
Minor clogs can often be fixed at home, but if you experience frequent clogs, slow moving drains or if you're unable to unclog a drain yourself, always contact a professional plumber before attempting extensive DIY repairs — it could cost you in the long run.
Work with the Team at SBPHA/C
Solution Based Plumbing, Heating, and A/C offers plumbing services including diagnosis, repairs, installations and maintenance. If you live in Montgomery, Bucks, Philadelphia, Delaware or Chester County, contact us at (215) 584-2098 for all your plumbing, heating and air conditioning needs.