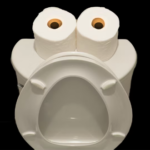 If you've noticed that your toilet isn't filling with water, you're not alone. It's a common plumbing problem that can be caused by a variety of issues. Fortunately, there are a few simple things you can do to try and fix the problem before calling a professional like Solution Based Plumbing, Heating and Cooling (SBPHA/C).
Water Valve
First, check the water valve. The water valve is located near the base of the toilet and is usually on the wall behind it. If it's partially or fully closed, the water won't be able to flow into the toilet bowl, resulting in the toilet not filling with water. Simply turn the valve to the open position and see if that fixes the problem.
Fill Valve
Another common cause of a toilet not filling with water is a clogged fill valve. This is the mechanism that controls the flow of water into the toilet tank. Over time, sediment and debris can accumulate in the valve, preventing it from opening and allowing water to fill the tank. To fix this issue, you can try cleaning the fill valve by turning off the water supply to the toilet, removing the valve, and flushing out any debris with water.
Float Valve
A malfunctioning float valve can also cause a toilet not to fill with water. This valve controls the water level in the toilet tank, and if it's not working properly, the tank won't fill up. You can try adjusting the float level by bending the float arm slightly or replacing the valve altogether.
Call Solution Based PHA/C
If these DIY fixes don't solve the problem, it may be time to call a professional plumber. We at SBPHA/C have the experience and expertise needed to diagnose and fix the issue quickly and effectively. Additionally, we can inspect the toilet and other plumbing fixtures to ensure there aren't any underlying problems that could cause more serious issues down the line.
If your toilet isn't filling with water, don't panic. Try these simple fixes first, and if they don't work, call a professional here at SBPHA/C to take care of the issue for you. Remember, timely and effective plumbing repairs can save you a lot of time, money, and hassle in the long run. Contact us today to ensure all your mechanical needs are met!