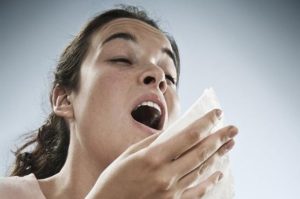 Photo by Tina Franklin, Flickr Creative Commons
Endless sneezing, non-stop stuffiness, and persistent headaches are typical signs of the approaching allergy season. But did you know that these symptoms, among others, often occur due to issues indoors? Most of us spend 75% of our time or more inside. To keep you and your loved ones healthy, our expert team at Solution Based Plumbing, Heating, and A/C is here to answer the question, why is indoor air quality important?
Why Is Indoor Air Quality Important?
We often look at our home as a haven. From locks on our doors to safe cleaning products, we consider our health and safety with every choice we make. So why do we take the quality of the air we breathe for granted? The quality of the air in your home can have both immediate and long term effects on your health, depending on how long you're exposed to irritants and pollutants.
Immediate: As with seasonal allergies, you may notice symptoms such as itchy and watery eyes, dizziness, headaches, sneezing, and sore throats.
Long-term: Over time, if you continually breathe in low-quality air, you may increase your risk of developing more serious health problems, such as respiratory illness/disease.
Although it can be scary to consider, being aware of how different pollutants impact the quality of the air you breathe is important. Sources of indoor air pollution include:
Tobacco products
Building materials and furnishings
Air fresheners and products used for cleaning and other purposes
Heating and cooling systems and humidifiers
Now that you understand the seriousness of indoor air quality, Solution Based Plumbing, Heating, and A/C has some advice to help.
How Can I Improve the Quality of the Air In My Home?
There are many ways to improve indoor air quality, including improving ventilation and using air cleaners. Here are a few other easy tips to consider:
First and foremost, invest in high-quality air filters for your heating and air conditioning units. Although they may be bit pricier, good filters are well worth the investment.
Second, change your filter as directed on the package, typically every one to three months. Most modern thermostats include a reminder to change your filter, but you can change yours more regularly if need be. Filters that deal with pet hair and other irritants may need more frequent changing.
Finally, consider the age or quality of your equipment. You may consider investing in a newer model of air conditioner or heater. Newer systems are more efficient and designed to provide cleaner air.
Are You Interested in Improving Your Indoor Air Quality? We Can Help!
Concerned but not sure what you need? Call Solution Based Plumbing, Heating, and A/C. We are a full service HVAC company that values our customers. We will happily come out to inspect your current equipment and make recommendations to help you. So, why is indoor air quality important? Because you're important!